Crownhill Packaging Awarded PAC Worldwide Pinnacle Award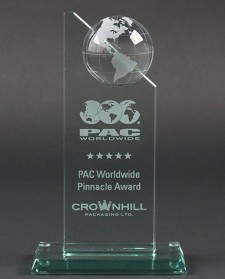 TORONTO, March 20, 2019 (Newswire.com) - The prestigious PAC Worldwide Pinnacle award is given out on a global basis to one exceptional organization annually. On March 11, 2019, Crownhill Packaging received the distinction at an awards ceremony in Toronto, Canada.
The award this year was presented to Crownhill as a testament to the close relationship between the two organizations augmented by dynamic sales growth and joint collaborative innovation in e-commerce packaging.
PAC Worldwide Executive Vice President John Taylor had this to say about their decision: "The award is given to a company who goes above and beyond, a company we consider as a true partner and a company using our market offering to bring value to their own product line. Crownhill is one of our largest independent packaging distributors. We have helped each other realize strong continuous growth. We have confidence we will see even more growth for many years to come."
PAC Worldwide is the predominant global supplier of innovative poly bubble mailer technology with manufacturing centers across North America and Asia to support the needs of a Fortune 500-dominated customer list including some well-known brands. PAC Worldwide is headquartered in Seattle, Washington, where they are committed to R&D and produce remarkable products every year. 
Crownhill Packaging is one of the largest independent packaging distributors in North America, with locations in both the United States and Canada, and is an ISO-registered custom packaging solutions provider with ISTA Lab Certification. The company is always looking for new technologies that bring value to their many clients and PAC Worldwide's patented PACzip technology fits these criteria perfectly. PACzip technology enables mailers to be easily opened by hand while remaining sealed during transport, as well as having a dual seal in case a return is needed. These mailers have been a key part of Crownhill Packaging's ability to find innovative packaging solutions for e-commerce retailers. 
Recently, Crownhill Packaging and PAC Worldwide worked together to apply poly mailer packaging solutions to emerging industries and finding new applications for the product line. This led to viral news reports that gained clients a considerable amount of organic publicity, an incredible feat in the world of packaging where most innovations are overlooked.
The work PAC Worldwide and Crownhill Packaging are doing together is creating a disruption in the packaging industry and many eyes are watching what these two companies will produce together.
For more information, please check out the official release on Crownhill Packaging's site at https://www.crownhillpackaging.com/news/crownhill-awarded-pac-worldwide-pinnacle-award/.
Source: Crownhill Packaging
Share:
---
Categories: Packaging
Tags: Crownhill Packaging, PAC, Packaging Awards, Packaging Solutions, Pinnacle Award
---
Crownhill Packaging
8905 Goreway Drive
Brampton, Ontario L6T 0B7
Canada